Being active on the market of medical devices for 30 years, Digiterm Ltd. is committed to comply all the highest requirements of healthcare applications. As you are aware, as of the end of May 2021 a new Medical Device Regulation is to be introduced by the European Commission under the number (EU) 2017/745 (MDR).
Compared to the previously applied directives No. 93/42/EEC (MDD) this regulation contains more strict rules regarding the following aspects of medical devices:
risk management
clinical evaluation of the medical device
structure of technical specification and content of the medical device
evaluation process of the compliance
providing strict traceability via post market surveillance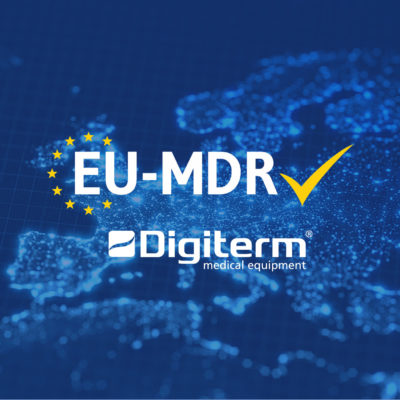 Even though it adds some additional administration of the medical devices being on the market, the new system provides additional guarantee to the end user that the registered device used is safe, complies with the highest regulations and in case of unexpected events will be easier to make corrective and preventive actions to avoid the re-occurance of similar events. Digiterm complies with these even today, but after end of May with this regulation as well.
Our therapy chairs belong to Class I from risk point of view. Our chairs with built in weight measurement Comfort-3 Scale and Comfort-4 Scale are exceptions, belonging to Class I m risk group, for these products the new regulation will be applied only after 2025, being legacy devices and as their compliance is regularly controlled by third party organisations.
The regulation was intended to introduce in May 2020, however, due to the Covid-19 Pandemia it has been postponed by one year. As of 25th of May 2021 any new medical device manufactured and applied must comply with MDR.
It is our pleasure to inform you that Digiterm has finished the preparation phase and is now MDR compliant.
Actor ID/SRN : HU-MF-000004201
Now, that the registration module of EUDAMED is available, we have applied and received the UDI-DI identifiers for our product types.
As an effect of the registration some changes will be visible on the labels of the chairs too. These will contain the UDI-DI identifier of the chair type and also the denomination of the chair on the local language of the destination.
While delivering safe and high quality seating solutions globally, the satisfaction of our partners always was and will be key value for us.
If you have any quality management related question, please contact our QMS & EMS Team:
E-mail: quality@digiterm.hu