Mobile Infusion and Docking Stand
Intensive medical treatment with intravenous infusion workflow management requires more and more often a large number of infusion pumps and syringe pumps dosing precisely liquid medicaments for the patients.
These devices must be in the direct environment of the patient, but due to limited space or a number of other devices and cables should be mounted on mobile stands.

Material of Base: powder coated high tensile steel
Material of IV pole: stainless steel
Bottle holder: four plastic hooks
IV pole height adjustment range: 1517 – 2177 mm
Dimensions of docking pole: Ø 28 x 820 mm
Base dimensions: 670 x 540 mm
Total weight (net): 16.5 kg
Size of castors: 4 × Ø 10 cm swivel castors with total lock
Load capacity of hooks: 2 kg / hook
Total load capacity: 30 kg
Colour: RAL 9001
Applied directive and standards: 2017/745 (MDR) and harmonized standards
Mobile Infusion and Docking Stand
MobiDock Infusion and Docking Stand is designed to hold compact stackings of docking stations, individual volumetric infusion pumps and syringe pumps. The pumps can be mounted and released quickly in different combinations.
While mobility is the key to optimize the floorspace in the treatment room, it is also of importance when moving the patient in bed between treatment locations. Safe and easy movement of the stand is guaranteed by robust steel structure and well engineered balance even with full load.
The individually breakable castors and ergonomic handle make the stand safe and easy to move by the nursing staff and patients as well.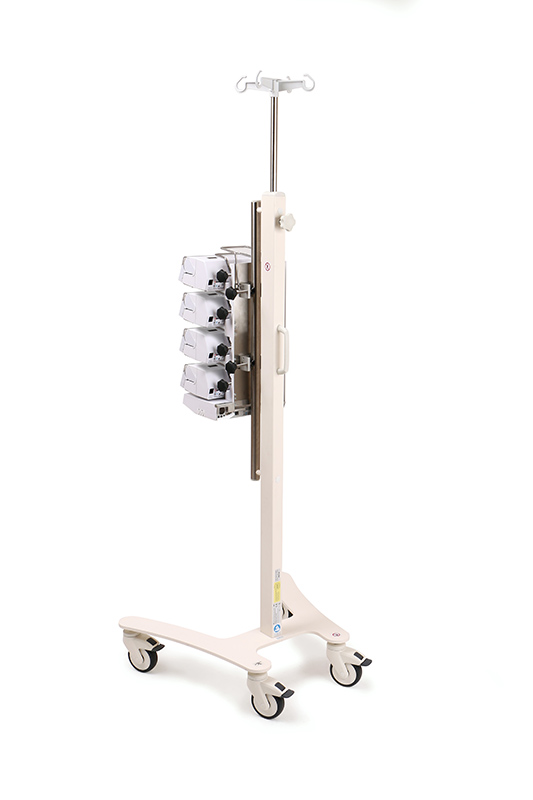 The stand is equipped with high-quality castors available in two sizes: 75 and 100 mm. They provide quiet movement avoiding noise and vibration.
The special design provides reliable stabilitylow center of gravity, space-saving, and the powder coated finish allows easy and efficient cleaning and disinfection.